Rising Sun Trust: Cash crisis forces closure of drugs charity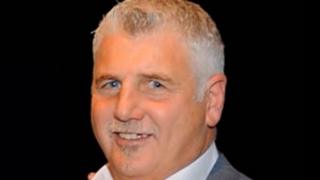 A charity set up 15 years ago by the father of a Cumbrian teenager who died after becoming addicted to drugs, is to close because of a lack of cash.
Dave Smith founded the Rising Sun Trust in 1999 after the death of his 18-year-old son Ryan.
The Frizington-based charity offers support to young drug users and their families and works with schools to highlight the risks of addiction.
The charity said it has been unable to raise £90,000 to cover its costs.
Mr Smith, who was made an MBE in 2011 for services to people addicted to drugs, blamed the decision on a lack of accessible funding for small charities.
'Sleepless nights'
He said: "We are devastated to be closing. The young people of Cumbria are missing out on a vital part of life education.
"There is simply no funding available for this type of project. We need about £90,000 to keep going and it is very difficult to raise that.
"We've already cut back what we do as funding was getting more difficult to come by. The announcement by the Northern Rock Foundation that it is closing hasn't helped our situation.
"I've been having sleepless nights thinking about the finances. But now it has come to the point where myself and the trustees have realised that we can no longer go on.
"I would like to thank the people of Cumbria who have supported us previously and also the trust staff and trustees."
Workington MP Sir Tony Cunningham, who is patron of the charity, added: "It is hugely disappointing that the Rising Sun Trust is having to close. It has done a wonderful job over many years.
"The problem is the issue of addiction will not go away with the charity's demise and it will be the NHS and other agencies that will have to take up the slack."
The charity is expected to be officially wound up in July.