Titanic engineer's memorial restored to former glory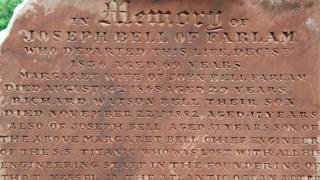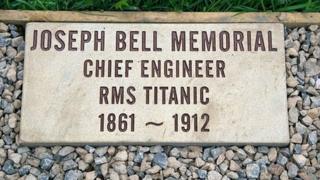 A memorial in Cumbria dedicated to the chief engineer of the Titanic has been restored to its former glory.
Last year, an appeal was launched to raise £2,000 to conserve the only memorial of Joseph Bell in his hometown of Farlam.
Now the conservation work has been completed on the sandstone gravestone memorial at St Thomas a Becket Church.
Barrie Hodgson, who launched the appeal, said it was important to remember the "remarkable" man.
The memorial stone has been re-lettered, cleaned and sealed to protect it for future generations.
A footpath to the memorial has also been installed, along with an engraved memorial plaque sited adjacent to the gravestone in the Old Graveyard.
When the Titanic went down in April 1912, 51-year-old Joseph Bell stayed in the engine room.
Mr Hodgson said: "It's good that we can pause and come together, to remember and celebrate this remarkable Cumbrian from Farlam, who died so courageously confronting fear, danger and uncertainty with his fellow engineers 102 years ago."