Cumbria Partnership NHS Foundation Trust will be more 'open'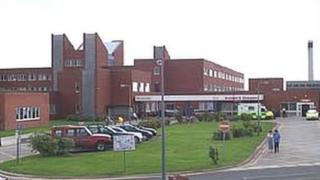 The boss of the organisation running many of Cumbria's health services has vowed it will become more "open and transparent".
Claire Molloy, chief executive of Cumbria Partnership NHS Foundation Trust, also said her first months in the role had been a "baptism of fire".
The group was criticised by an NHS watchdog last year over failings at the Ramsey Unit in the grounds of Barrow's Furness General Hospital.
Subsequent inspections were positive.
In October, the Care Quality Commission (CQC) concluded "chronic staff shortages" impacted on the safety of dementia patients.
That inspection came as Ms Molloy neared the end of her first 100 days in the post.
'Wake-up call'
Speaking to BBC Radio Cumbria she said: "We were incredibly upset to get such a poor CQC inspection.
"It was down to us not having listened to staff about the pressure they were under. We moved quickly to put the right staff into post.
"We've done a lot of work over the last six months and had two subsequent inspections that have shown we are delivering good care now."
Ms Molloy said the criticism had been "a wake-up call for the organisation".
She added: "While I absolutely don't want to hear we are providing poor care, one of the things it has done is to give me a really good platform to make the changes that I want to.
"I'm really keen to be more open and transparent about what we do and what we stand for.
"We came to [attention] with the very poor care we provided on the Ramsey Ward and so part of the journey we have got from that is how we change the culture within the organisation."
Among its responsibilities, the trust oversees community hospitals and nursing, as well as services for children and mental health.