Boxer dog Murphy found after £1,000 helicopter search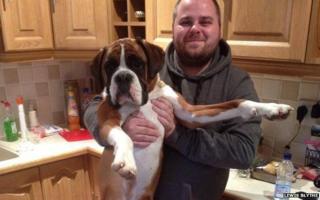 A boxer dog missing for five days in the Lake District has been found after £1,000 was raised to fund a helicopter search.
Murphy disappeared on Monday after slipping his lead at Angle Tarn, near Hartsop, Cumbria.
A social media campaign was launched to collect funds for a scent dog and the flight.
Celebrities including Hollywood star Jessica Biel had retweeted appeals to find the 21-month-old animal.
He was found on Saturday on a crag not far from where he had gone missing.
Owner Lewis Blythe, of Bury St Edmunds, Suffolk, had been holidaying in Windermere with his partner.
He said: "We contacted mountain rescue, and I'm a member of the Notts and Yorkshire Boxer Rescue charity group and they launched an appeal.
"People were working tirelessly at home on their PCs to raise awareness and the Patterdale team were out every day searching."
Initial donations paid for a scent dog to be brought from Leeds before Mr Blythe enlisted a pilot from Manchester to rent a private helicopter with enough fuel for an hour-long search on Saturday.
'Absolutely mental'
Along with actress Biel, celebrities who retweeted messages included former England rugby captain Mike Tindall and television presenter Clare Balding.
Mr Blythe, a 29-year-old music teacher, said: "It was absolutely mental when celebrities got involved.
"I've never been a good flier and I'd never been in a helicopter before.
"He stuck out like a sore thumb with his red collar. He was absolutely fine, apart from an injured foot."
My Blythe said he believed Murphy had sheltered under rocks and had access to a source of water.
He added: "I was very emotional. I don't think we will ever forget this week.
"We're so overwhelmed by the number of people who have helped, particularly the boxer rescue group and the mountain rescue team.
"They were amazing - they went above and beyond what they should have done for a dog."