Walney Island at risk of 'split' from flooding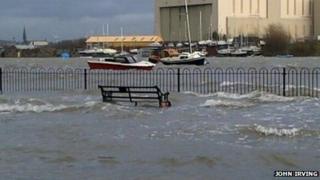 Batterings from storms have left a Cumbrian island at risk of being "split", it has been claimed.
Business and community leaders say urgent action is needed to shore up defences at Walney Island off the Barrow coast.
Work has begun on one part at the northern end, but there are calls for similar work further down the island.
Barrow Borough Council said protecting the "most vulnerable" part of the island would be a "very tall order".
About 13,000 people live on the island, although only a small number of those are in the southern part.
'Hazardous to navigate'
Walney South borough councillor Frank Cassidy told BBC Radio Cumbria that flood waters dividing the island would have a "very dramatic" impact.
He said: "The nature reserve would be cut off and only be visitable by boat; the oyster farm would be unworkable and the caravan park would be vulnerable.
"Residents of Biggar Village would be stranded and perhaps the most important thing would be that large quantities of mud would be swept across to Walney Channel. That could make the channel hazardous to navigate and have consequences for the port of Barrow and the town."
Richard Hennah, of Barrow Borough Council, said over the next 100 years there was a "likelihood" of south Walney "being covered by sea water" at most high tides.
He said: "It is plausible but not certain that Walney could have areas where it would split, certainly for the south part of the island where it looks to be most vulnerable.
"It's not something that you can stop because of the scale of it, and it's not something where you can throw lots of money at it to stop... stopping what is going on is going to be a very tall order".