Rock star Rory Gallagher's guitar fetches £25,000 at auction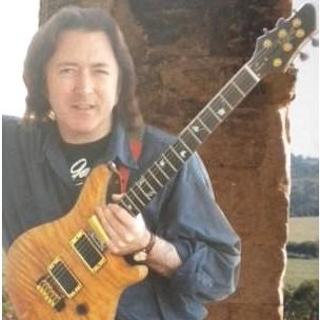 A guitar custom-made for Irish rock legend Rory Gallagher has sold for £25,000 at an auction in Cumbria.
The limited edition 'JS Berlin Legend' Patrick Eggle electric guitar was expected to fetch between £15,000 and £20,000 at Friday's sale in Kendal.
Gallagher, from Ballyshannon, County Donegal, died, aged 47, in 1995. He had given the guitar to a close friend.
A spokesman for 1818 Auctioneers said the instrument was sold to an unidentified foreign bidder.
Gallagher is credited with inspiring some of the world's most famous guitar players, including Eric Clapton.
He spent part of his childhood in Londonderry before moving to Cork and first made headlines with his band, Taste, in the late 1960s.
He was popular in Belfast, where he played regularly through some of the darkest days of Northern Ireland's troubles.
'Exciting sale'
His influence stretched from Slash to Johnny Marr, from U2 to Queen's Brian May, and Manic Street Preachers' James Dean Bradfield.
Kevin Kendal of 1818 Auctioneers, said: "It was very exciting sale.
"The guitar went for £25,000 so obviously it was about double what we expected.
"With high-price items you're always relying on one or two significant bidders with a bit of money to spend.
"In the end, the main interest was on the phone and the internet and ended up with three bidders going against each other.
"The buyer was from outside the UK, but I'm not able to reveal who that is."
In 2013, 18 years after he died, the Classic Rock Awards honoured Gallagher with the Tommy Vance Inspiration Award saying: "The ability to inspire a new generation is a genuinely special trait.
"To be an inspirational figure you must not only be mercurially talented, but also a boundary-pusher, someone who breaks down walls and refuses to let their creativity be stifled."