Bitterns return to Siddick Ponds after arson attack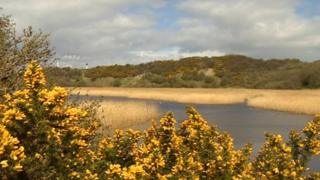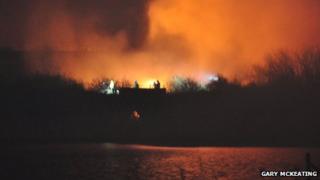 Wildlife has returned to a Cumbria nature reserve a year after it was damaged in an arson attack.
A third of the reed bed at Siddick Ponds, near Workington, was destroyed in the massive blaze, which was visible from miles away.
Fortunately, the fire did not burn so deeply it prevented re-growth, and recovery of the Site of Special Scientific Interest is well under way.
Many inhabitants have now returned, including three rare bitterns.
Following the fire, work was undertaken to improve the ponds.
'Very lucky'
New channels were dug in the beds to circulate water, otter holts were built, and trees and bushes were replaced.
Kirsten Mawby, from Allerdale Borough Council, said: "We were actually very lucky in that it wasn't as intense as we had expected, because we could have ended up with nothing
"We've got a lot more bird life around than we had this time last year, and we've got bitterns.
"Three have been back at the site this year, which is really good news because we were worried they might not return."