More protection needed for Cumbrian marine life, experts warn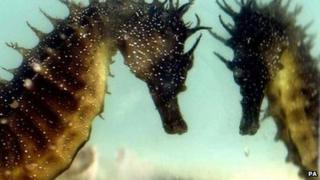 More needs to be done to protect the plants and creatures that live in the seas around Cumbria, according to organisers of a marine conference.
The event in Grange-over-Sands is being staged by Cumbria Wildlife Trust (CWT).
Its focus is the Marine Conservation Zone (MCZ) off the county's coast.
CWT marine conservation officer Dr Emily Baxter said there were "increasing pressures" from industry, pollution and climate change.
The Cumbrian MCZ was one of 27 announced nationally by the government in November, although as yet they do not have powers to prevent damage and much of the sea remains unprotected.
Ahead of the event, Dr Baxter told BBC Radio Cumbria: "We need to save a space for wildlife and important habitats."
She called for "the most damaging fishing practices", such as bottom trawling and dredging, to be restricted.
Among the guest speakers is Bronagh Byrne, environment and consents manager at Dong Energy, the Danish company behind many of Cumbria's offshore wind turbines.
While acknowledging that pile driving, cable laying and the pouring of thousands of tonnes of stone as rock armour around the base of new turbines had "some impact", she said she believed they were "quite short term" as the construction phase lasted around 12 months.
She added: "We do use scour protection [placing stones to protect the turbines] at some of our wind farm sites. However, it's very localised to the turbine foundations."