Lake District swimmers urged to don coloured caps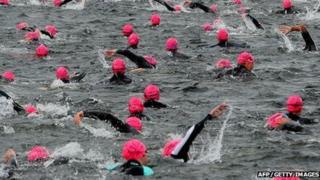 Swimmers taking to the water in the Lake District have been urged to wear brightly coloured caps so they can be seen by boat users.
The safety campaign has been prompted by increasing numbers of swimmers in Windermere, Ullswater, Coniston Water and Derwentwater.
Rangers have been handing out leaflets and encouraging swimmers to use the quieter lakes.
Lakes ranger Sara Spicer said: "Solo swimmers are particularly hard to see.
"It's easy to forget that boats, particularly larger vessels, take time to change their course or stop if they need to avoid someone in the water.
"A bright hat is number one priority, followed by a tow float, and if a white and blue Alpha flag-flying support boat or kayak is available, particularly for groups of swimmers, so much the better.
"If this advice is heeded, the safer those in the water will be."