Furness abbot's crozier returns to abbey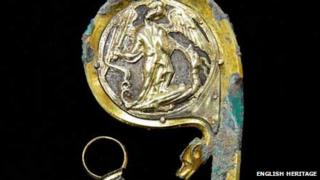 Relics found in the grave of a medieval abbot have been given a permanent home close to where they were unearthed.
The silver-gilt and copper crozier and jewelled ring were found in a grave in the grounds of Furness Abbey in 2010, and date back more than 500 years.
English Heritage described the crozier, or crook, as rare and beautiful and of international significance.
A campaign to keep them at the abbey was launched and £6,000 raised for a secure cabinet to house them.
Although the artefacts had returned to Furness Abbey twice on temporary visits, a permanent display was not possible unless controlled environmental conditions were put in place to ensure their preservation.
They will go on display along with scraps of cloth found with them.
The identity of the abbot is not known but analysis of his remains has revealed that he was between 40 and 50 years old when he died.