Newton Rigg College opens a working dairy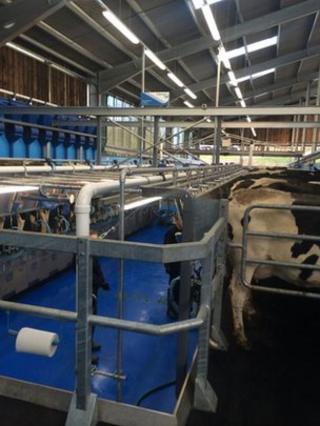 A £2.4m dairy has opened at an agricultural college in Cumbria, which it is hoped will help attract new hill famers to the county.
The dairy is a major investment by the Newton Rigg College in Penrith, which lost its herd of cattle to foot-and-mouth disease in 2001.
It will run as a commercial operation, with up to 180 cows, and provide hands-on experience for about 400 students.
The dairy has 164 milking cubicles and a mezzanine viewing gallery.
Liz Philip, principal of Askham Bryan College, which took over the running of Newton Rigg in August 2011, said: "The significance of the opening of our new dairy unit cannot be underestimated, both on a national and regional scale.
"We promised to put agriculture back at the heart of Newton Rigg and this flagship dairy is tangible proof of that commitment.
"Our vision is that it will become a centre for dairy excellence, providing a national focus for learning and best practice.
"Our students will gain a unique insight into the industry, gaining sound business management skills as well as hands-on experience working in the most modern dairy in the UK.
"Once again, we have already seen the number of students studying agriculture more than double - which bodes well for the future of farming."
Industry figures suggest as many as 60% of England's hill farmers could leave the industry over the next 15 years.