Force Forge falls death woman's husband tried to save her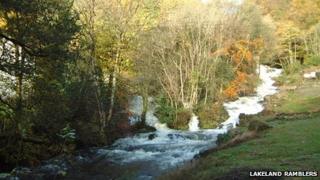 A retired doctor jumped into icy water to try to rescue his wife when she fell up to 20ft (6m) into a waterfall, an inquest heard.
Sue Jones suffered a fractured skull as she fell into the Force Forge falls, near Satterthwaite, Cumbria in January.
Her husband Malcolm said she fell as they were climbing back up after visiting the pool below.
At Barrow Town Hall, Assistant South Cumbria Coroner Alan Sharp recorded a conclusion of accidental death.
Dr Jones told the inquest that after admiring the view at the upper fall, where the river drops into a ravine, they walked to the pool below so the dog could go for a swim.
As they headed back up with his wife was ahead of him he said he heard a short scream and then "she'd gone".
Strong current
Dr Jones said he rushed back down to the pool and entered the water to try to rescue her.
She had become trapped face down against some boulders and the strong current and depth of the water meant "I couldn't do anything to get at her."
He said he remained in the water for about 20 minutes trying to reach her and when she became dislodged he was so cold all he could do was turn her over in the water.
Dr Jones found no pulse and saw her pupils fixed and dilated. He moved her to the water's edge before getting out to go for help.
The inquest heard a statement from Lee Warren, who was on his way to go mountain biking when he saw Dr Jones at the side of the road wet, bleeding from a cut to his forehead and shivering violently.
He went to the river where he saw Mrs Jones' body and called an ambulance.
Mr Sharp said the pathologist's report from the post-mortem examination found Mrs Jones had suffered a fractured skull in the fall which caused her death.