Barrow's St James' Church bells to ring once more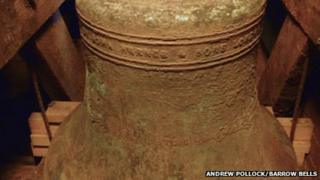 Bells at a Cumbrian church will ring out for the first time in almost 16 years.
The eight bells at St James' Church in Barrow were declared unsafe after being damaged by rain in their leaking tower.
After a fundraising drive and two years' repair work, they will ring at a rededication ceremony at 16:00 GMT.
The Bishop of Carlisle, the Right Reverend James Newcome, will preside over the event.
Reverend John Hodgkinson said: "The bell tower and the contraptions that held the bells up had decayed over the years.
"A lot of rain had got into the bell tower and so it wasn't possible to ring the bells because it was dangerous, so all the machinery around the bells had to be replaced."
Fundraisers collected £79,000 while a further £74,000 came from a Heritage Lottery Fund grant.