UK nuclear waste consultation draws 719 responses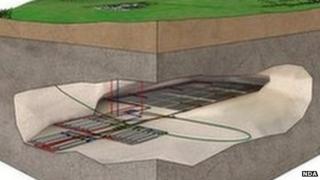 More than 700 people have responded in a UK-wide government consultation over choosing a site for an underground repository for nuclear waste.
Last year, Cumbria County Council voted against staying in talks to find a burial site.
The government has proposed enabling district councils to make the decision.
In its consultation summary, the Department for Energy & Climate Change (DECC) said "opinions were divided" on where authority should lie.
'Bribe by government'
It stated: "A few respondents agreed with the proposal that the district council should be the 'representative authority'.
"On the other hand, some respondents felt that county councils were best placed to represent the community and hold the Right of Withdrawal.
"Concerns were raised by a few respondents about county councils being excluded from having a participative role in the process."
It added some respondents were "concerned that the provision of community benefits constituted a bribe by government", while others were worried this could mean "economically deprived areas may see their future prosperity as being solely dependent" on hosting a repository.
The consultation ran from September until December.
In November Labour's Stewart Young, leader of Cumbria County Council, said the DECC's revision to exclude county councils from the decision-making process was "outrageous".
A DECC spokesman responded by saying: "Hosting a site would bring lasting economic benefits with jobs, opportunities for businesses and a generous benefits package to support the community."
A full response to the consultation will be issued by the government later this year.
It also intends to publish a White Paper, setting out a revised national siting process.