Rally firm M-Sport to 'create 100 jobs' with multi-million pound expansion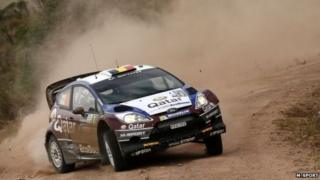 Rally firm M-Sport is planning a multi-million pound expansion which it says could create 100 jobs in Cumbria.
The company wants to build a vehicle testing centre for road cars, a hotel, 25 houses, a wind turbine and offices at Dovenby, near Cockermouth.
A public consultation event will be staged on Monday with a planning application lodged next month.
M-Sport employs 200 people locally and competes in the World Rally Championship.
Managing director Malcolm Wilson said: "The big thing is it futureproofs the 200 jobs that are already here, but it's also creating 100 engineering jobs with great opportunities for local people.
"If we get planning [permission], we would look to get the machines on site this year and by the end of next year it will be well on the way to being up and running."
John Grainger, of Invest in Cumbria, an organisation which hopes to encourage businesses to grow in the county, welcomed the announcement and praised M-Sport's "track record" of offering work to people from west Cumbria.