Helvellyn weather trek up for auction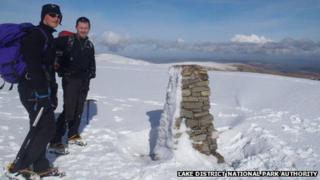 Members of the public are being invited to bid for a chance to record weather conditions at the top of one of the Lake District's highest summits.
During winter months, fell top assessors scale Helvellyn's 3,114ft (950m) peak to collect information for the Weatherline service.
Throughout March nine people can bid £90 on eBay to join them.
There will also be an auction for an individual foray with the day's weather report attributed to the winner.
Weatherline has been running for 40 years, providing vital information for locals and the 15 million annual visitors.
'Rare opportunity'
In 2011 the service was under threat due to lack of funding, but later saved through sponsorship and fundraising efforts.
Adam Thomas, from the Lake District National Park, said: "We have some of the world's most spectacular mountains and keeping those venturing on them as safe as possible is paramount.
"We are constantly looking at ways of finding additional funding to safeguard the service and hope the eBay adventure will be popular."
He warned that conditions could be hugely challenging, ranging from driving winds, snow drifts and wind chill temperatures as low as -16C.
However, he added: "This is a rare opportunity to scale our third highest peak with an expert and see first-hand what our assessors face as they gather information that so many people depend on."