Damaged Whitehaven harbour flood defences to be repaired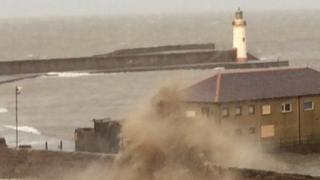 Flood defences on Whitehaven's harbour which were battered by storms are to be repaired thanks to £324,000 of government funding.
In December, "violent" waves and "unusually high" tides caused severe damage to the harbour's flood defences.
Work will now be carried out by the Environment Agency to repair the defences and the Old Quay wall.
A spokesman said the repairs were "urgent" to protect the already weakened structure from further damage.
The Old Quay is a Scheduled Ancient Monument.
Copeland Borough Council's director of services, Pat Graham, said: "The harbour is a historic monument and an absolutely integral part of our town.
"It actually stood up remarkably well to such destructive storms but it's great news that it will be repaired and both visitors and locals will be able to enjoy this beautiful area again."
Works is expected to be completed by April.