Carlisle old fire station arts centre plans unveiled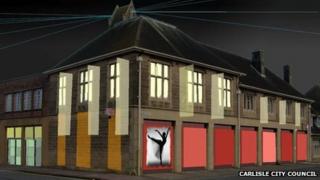 Details about plans to build a £1m arts centre in an old fire station in Carlisle have been revealed.
Carlisle City Council aims to transform the former fire station on Warwick Street into a space for galleries, workshops and live entertainment.
The project will adapt the building into four main areas while maintaining its "distinctive" character.
A spokeswoman said the council hopes it will provide an "exciting" place for the people of Carlisle to "enjoy".
The scheme will include a ground floor foyer with box office, cafe and main auditorium, a first floor studio space for workshops and a studio for fitness activities.
A two-storey extension of the building has also been proposed.
The old fire station is currently open for a pilot period for people to try out the spaces and to see how they can be best used, the council said.
If the development is given planning approval, work will begin in June and is expected to be completed by spring 2015.