Joshua Titcombe's family suffered 'unnecessary distress' after death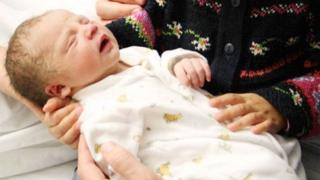 Lack of openness and honesty caused unnecessary distress to a family who had suffered the avoidable loss of their baby, a report found.
Joshua Titcombe died nine days after his birth at Furness General Hospital in 2008.
A watchdog upheld three complaints from his family about University Hospitals of Morecambe Bay NHS Foundation Trust's handling of the case.
The trust accepted it had badly let down the family and has apologised.
An inquest in 2011 ruled Joshua died as a result of natural causes, but staff missed opportunities to save him.
'Completely unacceptable'
His father, James Titcombe, said the family welcomed the report's recommendations for change and the ombudsman's apology for her predecessor refusing to investigate the family's complaints.
"Joshua's death has had an unbearable impact on our family," he said. "We miss him every day and continue to be haunted by the trauma of his short life and his horrific preventable death.
"The last five years have been made so much worse because of the way the trust and other organisations responded to his loss."
The Parliamentary and Health Service Ombudsman upheld two complaints about inappropriate email exchanges involving members of staff at the trust and one about the adequacy of its investigations following Joshua's death.
It did not uphold one complaint concerning an allegation of collusion among midwives in preparation for the inquest.
It also upheld a complaint about North West Strategic Health Authority about how it investigated events at the trust - a report that was published in December last year.
Ombudsman Julie Mellor said: "Hospitals and other health care providers have a duty to patients and their families to investigate their concerns properly.
"In these cases the trust failed to be open and honest about what went wrong and this caused the complainant and his family further unnecessary distress at a very difficult time.
"When serious untoward incidents happen there needs to be an independent investigation which looks at the root cause of the complaint and the role of human factors such as people and the organisation's culture."
Trust chief executive Jackie Daniel said it fully accepted the findings.
"There is no doubt that the trust has badly let down the family following the tragic death of their baby in 2008," she said.
"Clearly some of the actions highlighted by the Ombudsman have caused further unnecessary distress and pain. This is completely unacceptable and we are truly sorry for this."
She said she would ensure the recommendations were acted upon and steps already taken included changing the way incidents and complaints were handled and training about emails and communication.
Cumbria Police is investigating Joshua's death and Ms Daniel said they were continuing to cooperate with that and an independent investigation into maternity and neonatal services.