Backbarrow ironworks: Views sought on holiday park plan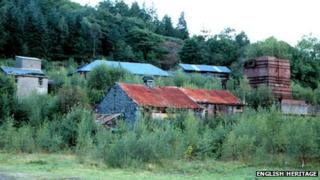 A historical industrial site in Cumbria which has been untouched for more than a decade could be saved if plans to build a holiday park are approved.
Backbarrow's former ironworks has been unused since two previous development schemes in 2002 and 2011 collapsed.
Now the owners of the site are hoping to turn it into a holiday village with a shop, cycle hire and 30 apartments.
A Lake District National Park spokesman said it was important to save it from "mouldering into further dereliction".
The site, which dates back to 1711 and has been declared a Scheduled Ancient Monument, is one of the most at-risk industrial plots in England, according to English Heritage.
'Blighted site'
If the proposal is approved, it would be incorporated into the plans as a heritage exhibition site.
Lake District National Park planner Ben Long, said it is a "blighted site in the centre of one of our communities".
"The current owners are looking at a way to bring a difficult site into use and to help secure a future for the important industrial archaeology at the site," he said.
"It is a proposal which seeks to use a demand which the owners see as being out there for holiday purposes, to bring back into use a site which has failed as employment and housing use and also to secure the future of one the Scheduled Ancient Monument, which is at present, mouldering into dereliction."
Mr Long said the authority is "keen" to hear local views on the proposals before the owners apply for planning permission.