Carlisle's Belah Park slides saved after protest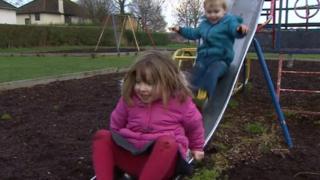 A play park that faced having its equipment removed because Carlisle City Council said it could not afford to maintain it has been saved.
Over 1,000 people signed a petition to save Belah Park's equipment.
Now the council has said it will continue to inspect and insure it if people in the community raise funds to buy new kit and improve existing items.
The Labour-run council wants to remove equipment from about 20 playgrounds in a bid to save £25,000 a year.
It had to find cuts of almost £4m in its £13m annual budget, which was agreed last week.
At a meeting between the Belah Park Residents' Committee and council officials earlier, it was agreed to leave existing play equipment untouched until funds are raised by the committee to replace them.
As planned, part of the area's larger playing field will be turned into another football pitch.
'New future'
The committee's Mike Kingston said: "Children in the Belah community will be thrilled with today's decision.
"Now the difficult work begins - fundraising.
"With the right support from local organisations we hope to develop a park which could rival any other in Carlisle."
Deputy council leader Elsie Martlew said: "It was the first step towards a new future for Belah Parkside play area, and the community group and the council are all on the same wavelength.
"It shows what the council and community can do together."
However, work to remove play equipment has already begun at Botcherby's Broadoaks Grange and Scotby Close.