Cumbria PCC Richard Rhodes pushes through Council Tax precept rise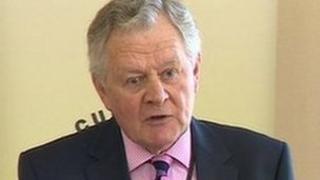 Cumbria's police and crime commissioner Richard Rhodes has decided to raise the amount of funding the force receives from Council Tax by 1.93%.
It comes less than a week after the watchdog that oversees his work, the police and crime panel, voted against his proposal.
However, it had no power of veto and Mr Rhodes has pushed through his proposal.
It means people living in a band D property will have to pay £3.96 a year more to the police each year.
Mr Rhodes said the increase was necessary in order to give the chief constable "the operational capacity to keep fighting crime".
He said the force had already made savings of £14m in its running costs with a further £10m required by 2017.
Mr Rhodes added: "The level of policing in the county, in my judgement, depends significantly on the amount of available funding.
"It seemed to me the figure of 8p a week was not in any way excessive."
Cumbria's Temporary Chief Constable, Bernard Lawson, welcomed the decision.
Last week, the panel said it rejected Mr Rhodes' proposal because members did not feel the increase was justifiable while "the evidence appears to be that crime is going down in Cumbria".
However, following his decision to push through the rise, panel chairwoman Celia Tibble - one of the three members who voted to support it - denied Mr Rhodes had "ridden roughshod" over its conclusion.
She said: "We have exercised every power the government has given us and Mr Rhodes has also acted within the powers given to him by the government."