Volunteers dig out buried Lake District ski slope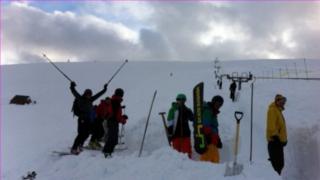 Dozens of volunteers turned out to shovel snow from a Cumbria ski slope after a substantial fall buried equipment.
The Lake District Ski Club tow, on Raise, next to Helvellyn, was out of action when 5m (16ft) of snow fell.
Patterdale Mountain Rescue Team warned the avalanche risk in the area was high.
The Lake District's Weatherline said fells were covered by a substantial amount of snow.
James Blacow, from the Lake District Ski Club, said the snow had been falling for the last few weeks but it had "really dumped" over the weekend.
Volunteers worked on Saturday and Sunday to clear the ski tow and it was working again by about midday on Sunday.
Mr Blacow said conditions were now "brilliant" after they had struggled for snow earlier in the winter.
On Saturday Patterdale Mountain Rescue Team tweeted: "5m of snow on Raise, ski tow and hut buried. Avalanche risk in the area high."
The Weatherline service reported some north east to south east facing slopes above 800m were unstable and should be treated with caution.
It said exposed routes should only be tackled by those experienced in and equipped for winter mountaineering conditions.