Protest over Sellafield deer cull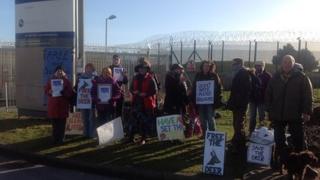 A group of protesters gathered outside the Sellafield plant to try to prevent a deer cull from going ahead.
About 12 roe deer are trapped between two fences at the Cumbrian nuclear reprocessing plant.
The company has been advised that the cull, which is due to be carried out between February and May, is the most humane way to remove them.
But opponents want them to reconsider and for the deer to be released.
About 15 protesters carrying placards and flags gathered at the site's main gates on Sunday afternoon.
'Highly skilled marksmen'
Organiser Margaret Morton said: "It has been a peaceful protest. We have seen quite a few people going in.
"We would like them to move the fence and let the deer back out or relocate the fence to allow them to reach their normal territory.
"Culling is not the answer. Our wildlife are precious."
Campaign group Animal Aid has condemned the cull and more than 1,000 people have signed a petition to save the deer.
The government-funded Deer Initiative advised the company that the cull was the most humane way to remove the animals.
Sellafield said the cull was a "last resort" and would be carried out by "highly skilled marksmen" in the next few months.