Tebay rail deaths anniversary: RMT calls for increased safety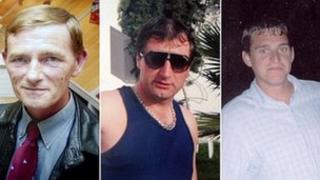 A rail union is calling for better safety measures for workers on the anniversary of the deaths of four men crushed by a runaway wagon in Cumbria.
The Rail, Maritime & Transport (RMT) said improvements still needed to be made 10 years after the men were killed by a runaway 16-tonne wagon on the West Coast Main Line at Tebay.
A service is being held at midday at a memorial stone off the A685.
Network Rail said it had made improvements to its wagons.
A spokesman said they had been fitted with "failsafe brakes".
However, RMT general secretary Bob Crowe said privatisation had destroyed the rail service and the use of too many contractors had created a "dangerous environment".
The men were hit by the trailer carrying rail lines which had come loose at Tebay Old Yard, between Kendal and Penrith.
Gary Tindall, 46, from Tebay, Chris Waters, 53, of Morecambe, Lancashire, Colin Buckley, 49, of Carnforth, Lancashire, and Darren Burgess, 30, of Carnforth all died. Five others were injured.
Two men, working as subcontractors for Network Rail, were found guilty of manslaughter through gross negligence at Newcastle Crown Court in 2006.
Mark Connolly, 44, of Anglesey, north Wales, was jailed for seven years and Roy Kennett, 29, of Maidstone, Kent, was jailed for two years.
Gareth Llewellyn, Network Rail safety director, said: "All the recommendations made by the independent safety investigator into the accident have been implemented.
"Controls for the use on track plant equipment have been much improved and vehicles of the type that caused the Tebay accident are now fitted with a failsafe braking system."
But Mr Crowe said: "Tebay was not an accident. It was the direct result of the privatisation and fragmentation of our railways.
"Ten years on we still have a confusion of contractors and subcontractors.
"That means there is no consistent application of safety standards and no central line of command and communication."