Sellafield deer cull condemned by Animal Aid campaign group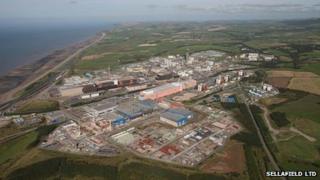 The planned cull of deer at Sellafield in Cumbria has been condemned by a national campaign group.
About 12 roe deer are trapped between two fences at the nuclear reprocessing plant.
The government-funded Deer Initiative advised the company that the cull was the most humane way to remove them.
But Animal Aid said Sellafield "would improve its image no end" by releasing the deer and has organised a demonstration on Sunday.
Head of campaigns Kate Fowler said: "This is a huge and controversial company that seeks complex solutions to difficult and dangerous problems as a matter of course - it cannot be beyond their wit to release a handful of deer.
"All too often, the 'solution' to wild animals appearing where they are not wanted is to reach for the gun."
Sellafield said the cull was a "last resort" and would be carried out by "highly skilled marksmen" between February and May.
"A peaceful protest is anticipated but members of Cumbria Police and the Civil Nuclear Constabulary will be on hand to ensure that the site's security is not compromised," a spokeswoman added.
More than 1,200 people have signed a petition to save the deer and campaigners from Radiation Free Lakeland have asked their local MP, Tim Farron, to take the matter to Whitehall.