Cumbria awarded £2m for flood defence projects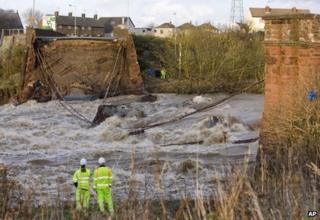 Cumbria has been awarded more than £2m for flood prevention projects around the county.
The government cash will be used for flood defences in the Workington, Ulverston and Threlkeld areas.
There will also be restoration work on the rivers Kent, Derwent and Eden.
Cumbria County Council said 21 projects had been put forward, and while it welcomed the funding for five of them, it hoped that in future years more money would be forthcoming.
Councillor Keith Little, cabinet member responsible for flood protection, said: "My thoughts go out to all those communities in the south west currently dealing with the awful hardship that flooding brings.
"While the government's efforts are quite rightly focused on helping people there right now, there are still communities in Cumbria who would be at risk if the weather event happened to be over this county next time, so Cumbria's case still needs to be considered.
"It's disappointing that schemes that we thought would have a good chance of securing funding this year will have to be deferred for at least another year, although we appreciate that Cumbria has benefitted from £55m of investment in flood defences over the last 10 years.
"In the meantime, we will be using the positive news of the generous Local Levy funding to deliver some important new flood protection measures this year."