Big Chill Swim: Hundreds in 5C water on Windermere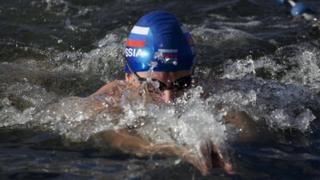 More than 570 people have been swimming in icy water on a Cumbrian lake.
They raced without wetsuits in 5C water as part of the second Big Chill Swim on Windermere.
Entrants from as far afield as Latvia, Germany, Russia, France, Finland and the UK, swam 30-450m relays and a 1000m "extreme" event for very experienced cold-water swimmers.
Event organiser Colin Hill said taking part in the sport was "an amazing, life-affirming experience".
"Winter swimming can seem like a very odd idea to the uninitiated but the sense of wellbeing and exhilaration you get when you have finished the swim is quite incredible," he said. "All your endorphins kick in."
Low Wood Bay Marina near Ambleside had been cordoned off and transformed to look like a swimming pool for the "gala-style" event.
Some swimmers came in fancy dress, said Mr Hill, who added that racers later had to contend with sleet.