Cumbria County Council scales down fire engine cut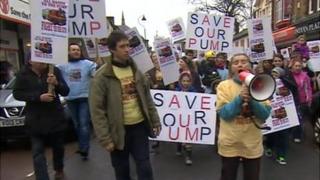 Plans to cut the number of fire engines in Cumbria have been scaled down.
As part of £24m budget savings over the coming year the county council had proposed axing second engines at five stations, which led to public protests.
Following a public consultation, it has now agreed to find savings elsewhere.
However, the council has warned that the level of savings required means that it will not be possible to avoid "tough and unpalatable decisions".
The proposals include a reduction in back-office costs but the planned closure of Dalton-in-Furness fire station will still go ahead.
The second engine at Barrow will be relocated to Ulverston.
However, the council has put aside aside £1m to phase out bus subsidies more slowly rather than axing them outright, although this will not include subsidised travel to school for the over-16s, which will be cut from September.
Councillor Jo Stephenson, deputy leader and cabinet member for resources at Cumbria County Council, said that in the current climate "it will never be possible to avoid tough and unpalatable decisions, I hope today's choices show how the cabinet has tried to minimise the effects of the changes that need to be made, within the limited resources available.
"Delivering these savings will continue to be a painful and difficult process."