Carlisle play park swings and slides to be removed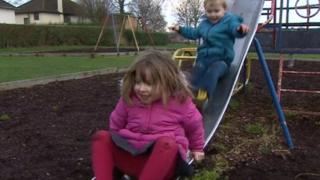 Slides, swings and roundabouts are to be removed from 21 parks in Carlisle in a bid to save £25,000 a year.
Carlisle City Council says it can no longer afford to maintain children's equipment in almost a third of its parks and is stripping them of kit.
But parents have criticised the move.
And Conservative councillor Gareth Ellis said the authority needed to reassess its priorities after approving £1m funding for a new arts centre in the city's old fire station.
Labour castle ward councillor Elsie Martlew said the move was not ideal but blamed the government.
The Labour-run council must trim almost £4m from its £13m annual budget over the next five years.
'Imaginative play'
Ms Martlew said "some tough budget decisions" had to be made with "savings from a wide range of services".
She added: "I'm not happy to have to do this - but if I'm going to blame anyone I'm blaming the government. It is hammering local authorities by cutting funds."
The council said it was not shutting its parks, and children would be able to enjoy more "imaginative play" with areas being given "soft-landscaping".
However, Mr Ellis, ward councillor for Belah where a play park will be affected, said: "The council needs to reassess its priorities.
"I don't believe the priorities in Carlisle should be an arts centre with £1m building costs and another £125,000-a-year to run."
Parent Michael Kingston said "children need a safe place to play" and added that removing play parks could add to problems of obesity.
The council says every child in the city will still have a playground within 500m of their home and that £60,000 was being invested in 13 other parks.
Removal of the equipment is due to begin next month.