New Cockermouth hospital opens its doors to patients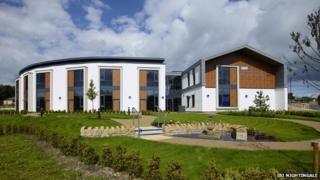 A new £11m community hospital has opened in Cumbria.
The facility on Isel Road in Cockermouth replaces the flood-hit building nearby, which is more than 100 years old.
As well as being the new home for Castlegate and Derwent GP surgeries, it has a pharmacy, physio department and inpatient ward.
The opening had been delayed by a row over the tendering process for the pharmacy.
The GP surgeries are the first services to be housed in the hospital with inpatients transferred on Wednesday and Thursday.
Other services will move in throughout the week.
Health services in the town had been affected by severe flooding in 2009, with GP services operating from temporary buildings.
Dr Simon Desert, of the Castlegate surgery, said: "It will be a welcome break to work in a purpose-built building."
In October, chemist JWW Allison applied for a judicial review as it said the lack of process in awarding the pharmacy contract broke NHS rules.
An injunction was put in place to prevent a pharmacy opening at the hospital, but the High Court rejected the legal bid.