Cumbria PCC Richard Rhodes seeks 'urgent' government advice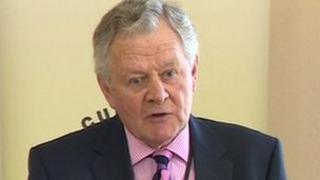 Cumbria's Police and Crime Commissioner wants "urgent" government advice after a veto of his proposed increase in police funding through council tax.
The 1.99% rise put forward by Richard Rhodes would have led to an average £4.07 increase in the annual amount paid by Band D property owners.
Cumbria's Police and Crime Panel blocked it as it waits to see whether precept rises will be limited to 1.5%.
A government spokesman said the threshold would be outlined "shortly".
Currently, a precept rise above 2% automatically triggers a local referendum but that figure could be lowered.
'Impossible position'
Mr Rhodes, a Conservative, said: "I am disappointed but understand the reasons why the panel felt that they had no option other than to veto the proposed increase.
"I made the point to policing minister Damian Green MP that we urgently need the advice from government of the level of council tax increase that would not need to be supported by a referendum."
The commissioner must submit new proposals to the panel by 15 February and it then has to meet to consider them before 22 February.
Councillor Celia Tibble, chairwoman of the panel, said the group and commissioner had been put in "an impossible position by central government" as the financial bottom line is unclear.
A spokesman for the Department of Communities and Local Government said: "We will announce the council tax referendum threshold principles shortly.
"A statement will be made to Parliament in due course, and the House of Commons will then vote on the proposed referendum threshold and local government finance settlement.
"Any council worried about referendum level simply has to freeze council tax."