Hospital lawyer Ranu Rowan reinstated after baby-death email probe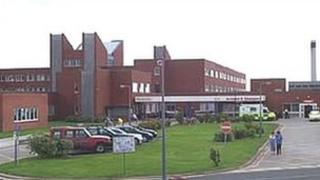 A senior hospital lawyer has been reinstated after being cleared of improperly trying to influence a coroner over a baby's death.
Ranu Rowan, head of legal services at University Hospitals of Morecambe Bay Trust, was suspended in September.
It came after extracts of an email were made public by the mother of Alex Davey-Brady, who was stillborn at Furness General, in Barrow, in 2008.
An inquiry has concluded Ms Rowan had acted correctly.
Alex died after midwives failed to monitor his heartbeat properly. The trust has since admitted liability for his death.
His mother, Liza Brady, obtained a number of documents relating to his death under data protection legislation.
In one email, Ms Rowan wrote to Tony Halsall, then chief executive of the trust.
The email, written in 2009, was to ensure Mr Halsall was happy with a letter being sent to South Cumbria coroner Ian Smith "in the hope it may nudge him away from holding an inquest, as we discussed".
'Significant' lessons
After Alex's parents complained, an investigation was launched to look into allegations Ms Rowan had conspired to prevent an inquest into his death, her relationship with a coroner's officer and whether she deleted emails.
On all counts the investigation - conducted by a solicitor appointed by the hospital trust - ruled the "specific allegations" were not substantiated.
The report stated it was the job of the head of legal services to present arguments about the law and how that referred to Alex's case.
Alex's parents received a letter from the trust before Christmas which informed them that Ms Rowan had returned to work.
The trust said there were "clearly significant learning lessons for the organisation" about how internal communications can be perceived.