Criticised Furness General Hospital dementia unit 'turned around'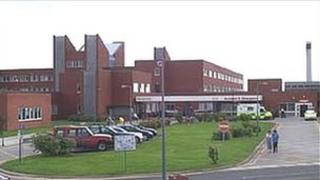 A hospital unit criticised for leaving elderly dementia patients without food for hours has passed an inspection.
The Care Quality Commission (CQC) blamed "chronic staff shortages" for the failings at the Ramsey Unit in the grounds of Furness General Hospital in Cumbria.
An unannounced inspection was carried out in October and new admissions to the unit were halted.
But a further check has now found standards are being.
The Cumbria Partnership NHS Foundation said standards at the 15-bed unit would "continue to improve".
The CQC carried out the latest unannounced check on 11 December, but the results have only just been released.
The October inspection found that patients were often left without breakfast until late morning because of staff shortages.
'Warm and caring'
It also found records were not being properly kept and a craft and sensory room was rarely used.
But within a month it found standards had improved so much at the unit that it now provided "a warm and caring" environment.
It also found staffing had increased by 25%.
Hospital Trust chief executive, Claire Molloy, said: "We have been able to make a great deal of changes in such a short timescale and what is really important now that this momentum continues.
"It is the intention of the ward manager to create a centre of excellence in dementia care for the people of Furness and I will do everything I can to support this ambition."
The latest report CQC stated: "Throughout our observations we noted warm and reassuring care being offered to patients.
"Once or twice when some patients became a little confused and disorientated staff spent time to comfort and reassure them.
"Staff understood patient's needs, for example one patient was identified by staff as being not as keen with the more lively activity and guided them to a quieter area.
"It was clear that staff were more adept and skilled in supporting and caring for people with dementia."