Sellafield loses appeal over £700,000 waste fine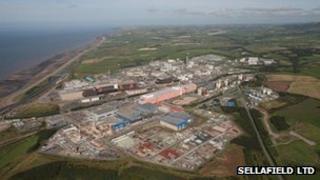 The operator of Cumbria's Sellafield nuclear reprocessing plant has lost an appeal against a £700,000 fine for wrongly dumping radioactive waste.
Sellafield Ltd was fined in February last year for sending four bags of low-level waste to the Lillyhall landfill site in Workington.
At the time lawyers for the firm said the fine was "manifestly excessive".
But three judges at the Court of Appeal said there were no grounds for criticising the level of the fine.
Last year, Carlisle Crown Court heard the bags, which contained waste such as plastic, tissues and clothing, should have been sent to a specialist facility for low-level radioactive waste.
But a number of management and operational failings led to them being sent to the Lillyhall site.
Sellafield Ltd, which admitted seven charges brought by the Environment Agency and Health and Safety Executive (HSE), said the error was caused by the wrong configuration of a new monitor, which passed the bags as "general waste".
'Real incentive'
The bags were later retrieved and returned to the plant for correct disposal.
The company said the fine was too large given that there was a negligible risk of any harm and it was not a deliberate or reckless offence.
Lord Chief Justice Lord Thomas, sitting with Mr Justice Mitting and Mrs Justice Thirlwall, said Sellafield bosses deserved credit for pleading guilty at the first available opportunity.
But he added the fine would "bring home" to the Sellafield directors the seriousness of the offences.
"A fine of the size imposed, even though only a little more than a week's profit and about 2% of its weekly income, would, in our view ... provide a real incentive to the directors and shareholders to remedy the failures which the judge found existed."
Richard Matthews QC, for the company, told the court that a "great many measures" had been put in place by the company following the prosecution to prevent further incidents.