Lake District to bid for World Heritage status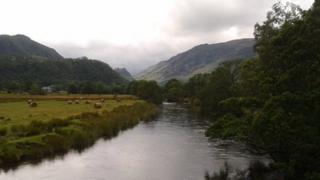 The Lake District will be put forward as the UK's next nomination for World Heritage status, the Government has announced.
Culture minister Ed Vaizey said it would be invited to prepare a nomination to be submitted to Unesco in 2016.
A decision on the Lake District bid is expected to be made in 2017.
Sites already on the list include the Great Barrier Reef, Taj Mahal and Hadrian's Wall.
Those awarded the status are considered by the World Heritage Committee as having outstanding universal value.
'Special place'
Mr Vaizey said: "The UK's heritage is world renowned and the Lake District, England's largest National Park is one of our heritage jewels.
"The Unesco nomination process can be very demanding and success is not guaranteed but I believe the Lake District deserves to be recognised and inscribed as a World Heritage Site and I wish all involved the very best."
Bids for the status have been invited from the Forth Bridge this year and Gorham's Cave Complex in Gibraltar in 2015.
Chair of the Lake District World Heritage Bid, Lord Clark of Windermere, said: "It would provide the globally recognised branding the Lake District and Cumbria and our tourism industries are seeking - it would tell the story of what makes this place so special to the outside world, and to the people of Cumbria."
He said the bid to secure the status for the Lake District dated back to the 1980s.
Lake District National Park chief executive Richard Leafe, said: "We believe it is possible to strike the balance between conserving our historical cultural roots at the same time as encouraging regeneration to meet the needs of a thriving, modern region."
Six technical evaluations were submitted to be considered for the nomination including the Lake District. They were Chatham Dockyard and its defences, the Flow County, Jodrell Bank Observatory, the Zenith of Iron Age Shetland and the Twin Monastery of Wearmouth-Jarrow.
The sites not invited to prepare nominations will be able to take part in the next round of evaluations.