Wigton business fears over gas pipe work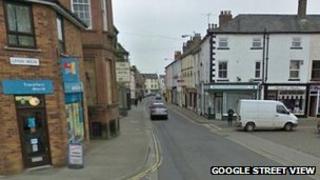 There are fears disruption during work to modernise gas pipes in a Cumbria town will hit businesses.
For eight weeks, Wigton High Street will be closed to traffic, although it will remain accessible to pedestrians.
Some shops have expressed concern that it will discourage visitors to the town centre and lead to a loss in trade.
However, Northern Gas Networks said the work, to replace ageing metal pipes with plastic ones, was crucial and it was subsidising parking nearby.
Jane Hollick, secretary of Wigton Chamber of Trade, said: "It will no doubt make it quieter.
"January and February are quiet months for most shops, and I think it will just discourage people from coming into town."
'Hassle and aggravation'
Greengrocer Bill Lightfoot said: "My main worry is that people aren't going to come in.
"Already they are going to supermarkets when they can park free and not have all this hassle and aggravation.
"Then, when it's over we'll have to try to get them to change their shopping habits and come back into town."
Barry Watson, from Northern Gas Networks, said the project had been designed to create as little disruption as possible.
He said: "We've split it into two or three phases along the High Street, meaning that we can close it down that little bit quicker.
"We hope that free parking in the town centre will encourage residents to continue to do their shopping in Wigton."