Whitehaven Festival 'will not return', organiser says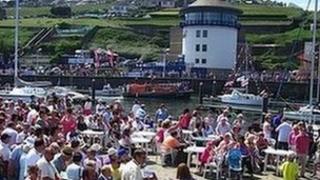 An annual festival which attracts more than 200,000 people to a Cumbrian town will not return, its organiser says.
About 250,000 people attended this year's Whitehaven Festival, but in October it was announced it would not be staged in 2014.
Now "insurmountable issues" have been blamed for the decision to scrap the event permanently.
The live music festival had run since 1998 and also featured street theatre, visiting ships, air shows and markets.
Gerard Richardson, chief executive officer of Whitehaven Festival Company, said growing costs meant it was no longer tenable.
"When we ended up spending more money on the infrastructure and health and safety work than the entertainment then the balance was tipping," he said. "It was only going to get worse.
"More and more people were threatening to sue us because they were claiming they'd had minor accidents.
"It's the culture we are in.
Mr Richardson said he would now turn his attention to organising smaller events in the area, including a music event at the sports ground at Hensingham and a homes and garden show.
"The space we had to work with was getting smaller and smaller and the number of people seemed to be getting bigger and bigger," he said.
It had initially been claimed next year's festival was being put on hold to make way for the town's harbour to be assessed for a revamp.