Storm-hit power supplies restored in Cumbria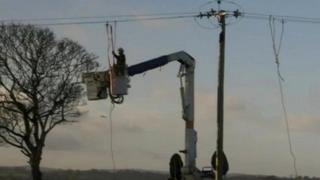 Power has been restored to all properties in Cumbria after high winds caused disruption.
Electricity North West said the final 11 customers in the Keswick area were reconnected late on Sunday.
At the height of the storm on Thursday night, 15,000 properties were without power and a total of 25,000 properties were affected by the weather, it said.
A number of roads were closed for a time on Monday as a result of flooding or because of the risk of high winds.
Cumbria Police said the A66 was closed to high sided vehicles for a time from Brough because of high winds.