Power 'will be restored' to last of 24,000 homes cut off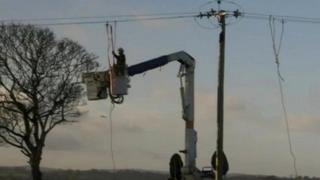 Homes in Cumbria still without power for a third day after high winds caused disruption have been promised supplies will be restored imminently.
About 24,000 properties were affected after Thursday night's storm but most were reconnected within 24 hours.
Electricity North West said engineers were "working around the clock to restore power".
The company said trees and debris had been blown into overhead power lines, snapping some electricity poles.
It said earlier weather conditions had made it difficult for engineers to get past blocked roads or to climb poles to restore supplies.
Cumbria Police said it had received 160 calls about weather-related incidents.
In Seaton, Workington, part of a roof and chimney were blown through the living room window of another property. In Barrow a house partly collapsed, crushing a car parked below.