Cumbrian homes without power as county hit by storms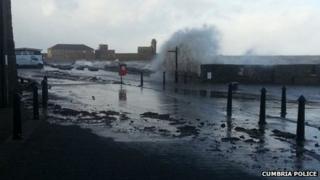 About 7,000 homes have been left without power and part of a building has collapsed in Cumbria as gales hit the county.
Gusts faster than 80mph (130km/h) were recorded at several places, including in Wales and St Bees Head in Cumbria.
Electricity North West said thousands of homes in Workington, Carlisle, Kendal and Penrith were without power.
Cumbria Police said part of a house in Barrow partly collapsed, crushing a car parked below. No one was injured.
Travel
Check if this is affecting your journey
In Seaton, Workington, gale force winds blew part of a roof and chimney into the living room window of a home. No injuries were reported.
A spokesman for the electricity firm said at one point overnight, about 24,000 Cumbrian homes had been without power.
Electricity North West said engineers had experienced difficulties repairing damage from the high winds as gales continued to hit the county.
A spokesman said it was hoped the situation would improve "quite drastically" once the wind had died down but "anticipated" some homes will be without power overnight.
The company said it was working with the British Red Cross to help those who are vulnerable.
The Met Office warned of gale force winds and persistent heavy outbreaks of rain throughout Friday, with winds reaching "storm force" over the summits.
One lane of the M6 is closed due to a diesel spillage after an HGV jack-knifed between Eden Bridge and junction 43 of the southbound carriage, Cumbria Police said.
A force spokesman said a number of roads in Keswick, Penrith and Ullock had been blocked due to fallen trees.
Motorists are advised to drive with caution and be aware of possible debris on the roads.