Plastic banknotes set to bring 80 new jobs to Cumbria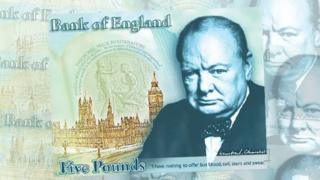 The company chosen to make the material for new plastic banknotes is set to create up to 80 new jobs in Cumbria.
Wigton-based Innovia said it planned to build a £20m factory to produce the material for the new £5 and £10 notes.
The Bank of England said polymer notes would be in circulation in 2016 - replacing cotton paper notes, which have been used for more than 100 years.
Innovia makes plastic packaging and already employs about 800 people in Wigton.
Washing machine
A £5 note featuring Sir Winston Churchill is due to be the first plastic banknote. They would be made from a thin, transparent and flexible film made of polypropylene.
This would be coated with an ink layer enabling it to carry the printed design features of a banknote. This would allow the inclusion of windows or clear portions in the design, used to enhance protection against counterfeits.
The Bank of England has said the notes would last for two-and-a-half times longer than paper banknotes. They would survive a spin in a washing machine but would still melt under extreme heat such as an iron.
More than 20 other countries around the world have already adopted polymer banknotes.
David Beeby, chief executive officer of Innovia said the firm was very proud to have been selected as the preferred supplier and said the decision "recognised Innovia's expertise in this field."