Arrested in Cumbria: Visiting suspects in custody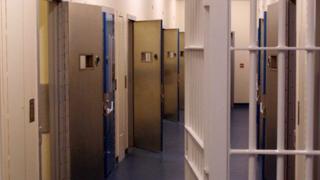 Every week of the year arrested people in Cumbria's police stations are visited by volunteers to make sure they are being treated properly. Now the force is looking for new recruits.
It all starts in earnest with a "night observation visit" from about 22:00 until the custody sergeant lets them go home "bleary eyed at about three o'clock in the morning".
The volunteers have training and a check list but the weekend night shift is their first experience of a police station custody suite.
After this they will turn up in pairs, unannounced, at any time of the day or night, on any day of the week.
They even turn up at Christmas, says Lynne Chambers, vice chairman of the Barrow visitors' panel.
It was busy when she went along to the station on New Year's Day last year. "Most of the cells were occupied - but most of them [the occupants] were asleep," she laughs.
Mrs Chambers thinks it is the "least onerous" of her collection of volunteering roles with the Royal British Legion, the Alzheimer's Society and the Cumbria Partnership NHS Foundation Trust.
Although she herself is retired, she stresses people can easily fit in visits around full-time jobs.
A commitment of once every five to six weeks results in more than 200 visits a year to the county's four "designated police stations" with permanent custody facilities.
In Barrow there is almost always someone in the cells and, because the town is small, "you do see the same people from time to time", Mrs Chambers admits.
Increasing transparency
The UK's custody visiting scheme was introduced after the Scarman Report into the Brixton riots of 1981.
The aim was to address a loss of confidence in the police, provide insight into what happens in police stations and make sure suspects' treatment was appropriate.
To preserve independence, police officers and anyone connected to the criminal justice system are barred from volunteering.
Cumbria is lucky, says scheme administrator John Askew, who is recruiting for the west and north Cumbria panels - some forces have more stations with custody cells and are "struggling" to get people to come forward.
"If you have too many people they don't get to visit sufficiently often to make it worthwhile," he says. "But if you have too few the system comes under strain.
"You quickly reach the point where, if someone has to drop out for an unforeseen reason and there is nobody available to take over at short notice, the visit doesn't get made."
Charlotte Gunston, 27, is a South Lakes local government worker and one of his new recruits, keen to offer a "younger person's input".
She passed the interview and managed the first overnight visit with only a "degree of apprehension".
"By 2am I could see the value of being present both for the police and the detainees and as a result now feel more confident," she says.
'Unfailingly patient'
The law says official visitors are to be given immediate access to the custody cells or a good explanation why not.
In six years Mrs Chambers has only been refused entry twice. The reason for delays is usually a "difficult situation with potential violence".
Rare problems are dealt with there and then with "unfailingly patient, courteous, considerate and professional" custody staff. Mrs Chambers says she has never had to take anything further.
Any concerns raised are often mundane - what the time is, when a solicitor will arrive - but they seem to like to ask something, she says.
They are not forced to talk to the volunteers, but some are pleased to "because it relieves the boredom".
What she is not there for, however, is to listen to a suspect's pleas of innocence. The reason for their arrest is "absolutely nothing to do with us", she says.
The police and crime commissioner's office, which administers the custody visiting scheme, calls it an "unsung community service" which very few people know exists.
"It's a highly privileged role in that very, very few people are allowed into the custody environment," Mrs Chambers says. "It's not a barrel of laughs, but it is important."