Ministry of Defence awards £79m Successor contracts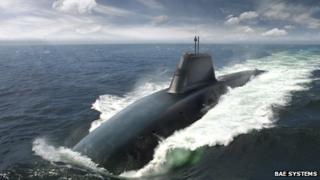 The Ministry of Defence (MoD) has announced a £79m investment in the design of submarines that could replace the UK's Trident missile system.
Contracts worth £47m and £32m have been awarded to BAE Systems in Barrow, Cumbria, where staff are designing the Successor vessels.
The MoD said the funding would allow essential orders to be placed.
The boats are due to replace the Vanguard fleet, which carry the Trident nuclear deterrent system.
A final decision on how to replace Trident is due to be taken after the next General Election. The Conservatives and Liberal Democrats have disagreed on the plan.
About 2,000 people are working on the design of the Successor, the MoD said.
The submarines were being designed to be "some of the stealthiest in the world", it said.
The Vanguards are due to reach end of service in the late 2020s.
About £650m has already been spent on the Successor design. BAE Systems expects to recruit 500 more staff in Barrow next year.