Cumbrian drugs gang must hand back £340,000, court rules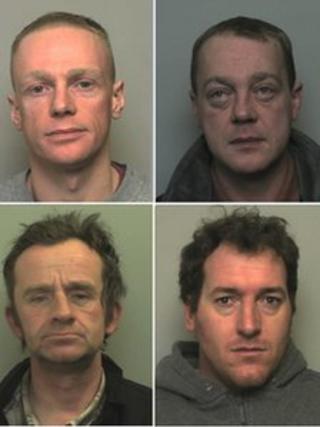 Four members of a Cumbria drugs ring which was run from a prison cell have been ordered to hand over £340,000.
Noel Young, William Young, Geoffrey Cairns and Francis Morley were jailed for their parts in a cocaine and amphetamine racket.
An investigation was then launched under the Proceeds of Crime Act.
A hearing at Carlisle Crown Court was told the men had benefitted by more than £500,000 and had realisable assets of £340,000.
Ring-leader Noel Young, 37, formerly of Metal Bridge, north of Carlisle, was sentenced to 12 years imprisonment in December 2011 after being found guilty of conspiring to supply drugs.
He had made thousands of telephone calls on three mobile phones in 2009 to orchestrate his operation while serving time at HMP Garth Prison for causing death by dangerous driving.
Also found guilty at the end of the three-week trial, Morley, 34, and Cairns, 49, both of Greenmill Road, Longtown, were sentenced to eight years and six years in jail respectively for conspiracy to supply.
£9m previous order
In April this year, Noel's brother William, 36, of Ghyll Bank Yard, Low Harker, near Carlisle, was jailed for eight years after being found guilty of a money laundering offence.
Officers began watching the gang when they caught Cairns in Stockton, Teesside, with amphetamine worth £10,000 in April 2009.
That operation saw the recovery of £170,000 cash, jewellery valued at more than £30,000 and a Range Rover worth more than £20,000, as well as cocaine with a street value of £45,000 and £10,000 of amphetamine.
Following their imprisonment, the recovery operation under the Proceeds of Crime Act was launched.
All four must hand over their realisable assets or face extended spells in jail.
Noel Young is still subject of a previous order under the Proceeds of Crime Act, where he owes over £9m.