Midwife supervision failings at Furness General Hospital baby unit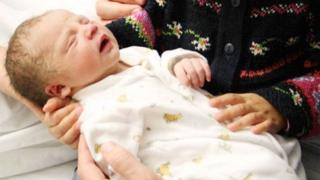 Poor supervision of midwives led to the deaths of three babies and a mother at a Cumbria hospital, a report has found.
Babies Joshua Titcombe and Alex Davey-Brady, and mother and son Nittaya and Chester Hendrickson died at Furness General Hospital in 2008.
A report by the Health Service Ombudsman found measures failed to identify poor midwifery practice.
NHS England offered its "deepest apologies" to the families and said changes had been implemented.
'Unanswered questions'
The report said: "In all three cases, the midwifery supervision and regulatory arrangements at the local level failed to identify poor midwifery practice.
"The families who complained to us could not mourn the loss of their loved ones properly because of the unanswered questions they had about the care provided during the births of their children.
"The fact that these questions were not addressed appropriately through the processes that are in place is a theme across each of the cases, as is the failure to learn from poor midwifery care, which could have resulted in future service users being put at unnecessary risk."
The report recommended that the NHS make improvements which would involve separate midwifery supervision and regulation.
One of cases to prompt the investigation was that of Mrs Hendrickson who died in labour giving birth to her son in July 2008.
He died the next day after being deprived of oxygen during birth.
'Deepest apologies'
The investigation found that Mrs Hendrickson, who had diabetes, was not cared for properly and that her child's heartbeat was not monitored properly.
The second case in the same year was the death of Alex Davey-Brady who was stillborn after his mother Liza was induced in September.
The investigation concluded he too was deprived of oxygen and the two midwives who supervised the birth were insufficiently trained.
The ombudsman also found failings in the death of Joshua Titcombe, who was just nine days old when he died of pneumococcal septicaemia in October of the same year.
It found that chances to save him were missed and that his death was not investigated quickly enough.
Nursing Director for the North, Gill Harris, said: "It is important that mistakes like this don't happen again.
"We would like to express our deepest apologies for the distress caused to the families affected - many of the improvements recommended have already been implemented."