Pirelli oven death: Worker 'did not see' George Falder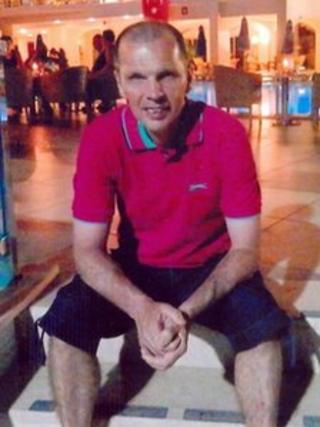 A colleague of a factory worker who died inside an industrial oven has told an inquest he could not see inside the machine when he closed the door.
Forty-eight-year-old George Falder's body was found in an autoclave at Carlisle's Pirelli tyre factory on 30 September last year.
David Arnott told the inquest the door obstructed his view of the inside of the machine as he closed it.
He said there was no indication Mr Falder had entered the machine.
Mr Arnott added: "If I had seen him I would have pulled him out."
The autoclave, used to harden rubber-coated rings which strengthen tyres, reaches temperatures of 145C (293F).
'Normal self'
The inquest, being held at a hotel in Carlisle, also heard from Darren Irving, another Pirelli employee, who said father-of-two Mr Falder gave no indication he intended to take his life.
Mr Irving said: "If any of us had any inkling of that, obviously we would have done something about it."
He said Mr Falder was his "normal self" on the day his body was discovered.
Mr Falder was described as a "nice man to be around" who joined in with conversations but kept personal matters to himself.
On Monday, Home Office pathologist Dr Alison Armour said her post-mortem tests showed no evidence of assault or third-party involvement.
The coroner told jurors there would be some evidence Mr Falder had suffered from anxiety, but added his family and colleagues would challenge that.
Since Mr Falder's death, Pirelli has changed the rules surrounding the use of the machine. A torch must now be shone inside it before the door is shut.
The inquest continues.