Pirelli factory oven inquest: George Falder death was 'quick'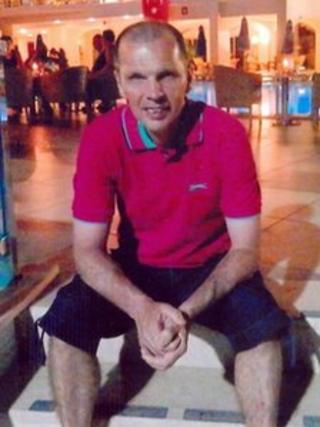 A father of two died in an industrial oven that reached temperatures of 145C (293F) at Carlisle's Pirelli tyre factory, an inquest has heard.
Medical experts agreed the residual heat inside the steam oven would have quickly overcome 48-year-old George Falder before it was even switched on.
The jury in Carlisle was also told it must try to work out why he entered the machine.
Mr Falder had been making rubber-coated wire rings used to strengthen tyres.
The process involved hardening them in an autoclave - a large steel cylinder into which steam is pumped.
Each cycle lasts 15 minutes and for 10 of those minutes temperatures would be at their peak, the inquest heard.
'Hostile environment'
Home Office pathologist Dr Alison Armour said her post-mortem tests showed no evidence of assault or third-party involvement.
The temperature inside the machine would have been about 80C (176F) in between cycles and the metal walls would have been about 135C (275F), the inquest heard.
Dr Armour said the environment would have been so hostile Mr Falder would have died quickly.
Health and safety inspector Michael Griffiths told the hearing Mr Falder, of Carlisle, went into the machine at about 16:00 BST on 30 September last year and said his colleague could have shut the door without seeing him.
The coroner told jurors there would be some evidence Mr Falder had suffered from anxiety, but added his family and colleagues would challenge that.
The inquest is expected to last five days.