Search for 'spooked' Whinlatter reindeer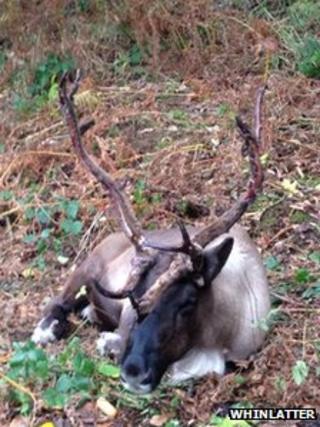 A search is under way for a reindeer that has been missing for three days from a forestry visitor centre in Cumbria after being "spooked" by a dog.
The seven-year-old adult male called Borneo was one of two reindeer on show at Whinlatter Forest, near Keswick.
But it escaped over a 6ft fence after a member of the public's dog got into the animals' pen.
Officials have appealed to the public for help in tracking down the reindeer, which was on loan from Scotland.
'Very lonely'
Barbara Thomson, from the Forestry Commission, which owns the Whinlatter site, said Borneo could survive for some time in the wild.
She said: "The reindeer were on loan from the Cairngorms Centre in Scotland and were in a large pen when a member of the public with a dog came past on Wednesday and the dog got into the enclosure.
"Reindeer have an inbred fear of dogs and one was spooked and escaped over the fence and was chased out into the forest.
"This isn't so much a welfare issue because there will be plenty of food for him to eat out in the forest. But we really would like to have him back."
She added: "We've had to send the other reindeer back to Scotland because they get very lonely and it wouldn't be nice to leave one on its own.
"We would appeal for anyone who is out and about in the Whinlatter area to please let us know if they see him."