Report slams Furness General Hospital dementia unit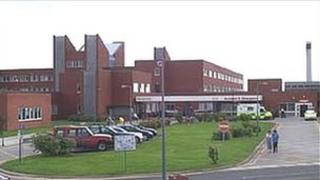 Elderly dementia patients were left for hours without food at a hospital in Cumbria and some therapeutic facilities rarely used, inspectors found.
The Care Quality Commission (CQC) said "chronic staff shortages" at the Ramsey Unit in the grounds of Furness General Hospital impacted on patient safety.
New admissions to the unit were halted for a time after the unannounced inspection on 10 October.
Cumbria Partnership NHS Foundation Trust said patients had been let down.
The trust has been issued with two formal warnings ahead of a further unannounced inspection.
'Real concern'
The CQC inspection found:
Patients often left without breakfast until late morning due to insufficient staff on duty
Facilities such as craft room, sensory room and gardens were rarely used
Poor record keeping
The CQC had initially said that patients were unnecessarily sedated, but this was later withdrawn.
Malcolm Bower-Brown, CQC northern regional director, said: "The issues we identified at the Ramsey Unit are a real concern and the trust must take further action to ensure national standards are met.
"We continue to monitor the trust extremely carefully to ensure that the required improvements are implemented.
"We will not hesitate to take further regulatory action to ensure patients receive the quality of care and support they are entitled to expect."
'Very upsetting'
Trust chief executive Claire Molloy said: "We were all very shocked and concerned for our patients and staff when we heard the outcome of the CQC inspection.
"To hear that our patients are not being properly supported is very upsetting and something I never want to hear again.
"Our service was just not good enough. We've let down our staff and therefore we have let down our patients and for that we are sincerely sorry.
"We have already made significant improvements to ensure that the care on Ramsey Unit is appropriate and meeting the needs of the current patients.
"Staffing levels have been increased by 25% and senior medical and nursing support has been brought in.
"We have now reopened the unit to admissions and this has been acknowledged by the CQC."
David Blacklock, chief executive of Healthwatch Cumbria, added: "We were made aware of the major concerns about the Ramsey Unit immediately after the CQC visit.
"We subsequently heard family members talk about their harrowing experiences and staff about their frustrations about not being listened to.
"It's clear to us that early warning signs were missed, staff were not listened to and checking processes failed."